Nintendo Switch Has Been Revealed!

Earlier this morning Nintendo released a commercial out of the blue. A commercial that would steal the attention of everyone on the internet today. Finally, they have revealed their new system. The Nintendo Switch.
This was Nintendo's Announcement:
Introducing Nintendo Switch! In addition to providing single and multiplayer thrills at home, the Nintendo Switch system also enables gamers to play the same title wherever, whenever and with whomever they choose. The mobility of a handheld is now added to the power of a home gaming system to enable unprecedented new video game play styles.

Previously known as the NX, the Nintendo Switch is a tablet with a detachable controller on either side with complete portability. Nintendo has finalized their new name and announced that they are on track for a March 2017 release.
From what we saw in the video the system has a wide range of titles and Nintendo has released a photo featuring their new partners.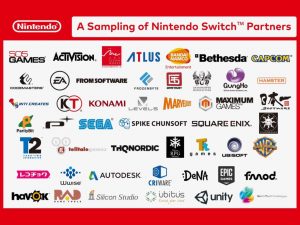 With big names like Bethesda and Activision I have no doubt in my mind we're finally going to see games like Call of Duty and Skyrim make their mark on a Nintendo console. The Wii U had failed at bringing in gamers from other groups, but now that Nintendo has so much 3rd party support they are able to cater to all potential markets. While they haven't been confirmed as launch titles the commercial did show off NBA2K17, Splatoon, Mario, and Skyrim.
I'm bursting with questions though, like I'm sure all of you are. One of my questions is about their battery life. How long would it last? Nintendo used to have some of the best battery life of any handheld console, but they had started their steady decline with with 3DS which has an average of 3.5 to 6 hours and the Wii U's gamepad only lasts approximately 4 hours. As a homebody I wouldn't be traveling very far with my gamepad. I would only need enough battery life to get from my house to a friends house before plugging in again, but they showed off the system in such a way that would elude to a decent sized battery life.
Nintendo hasn't announced the price or specs of the new console, but we know NVIDIA will be powering the Switch:
Nintendo Switch is powered by the performance of the custom Tegra processor. The high-efficiency scalable processor includes an NVIDIA GPU based on the same architecture as the world's top-performing GeForce gaming graphics cards.

The Nintendo Switch's gaming experience is also supported by fully custom software, including a revamped physics engine, new libraries, advanced game tools and libraries. NVIDIA additionally created new gaming APIs to fully harness this performance. The newest API, NVN, was built specifically to bring lightweight, fast gaming to the masses.

Gameplay is further enhanced by hardware-accelerated video playback and custom software for audio effects and rendering.
My body is ready for the Nintendo Switch. Is yours?