PAX East Convention 2017

A Convention for Casuals and Hardcore Fans
The beginning of "Convention season" always get me excited for PAX East which is in the first quarter of the year. PAX; or Penny Arcade Expo, started out in Washington for their first show in 2004. Since then it expanded to Boston in 2010 and it has been growing ever since. What makes this special for me is that it's a convention focused only on games and not just video games.

From hardcore D&D to casual tabletop games and card games they have it all covered. What's truly wonderful about the creators of tabletop games here is there is a section where you and your friends can try out the whole game before you even buy it. The people of PAX are a very friendly community and it is always an enjoyable experience.
PAX is a much smaller convention than the ones I'm used to which is a breath of fresh air. I only purchased a Saturday pass because its possible to see the entire floor in a day. This year there was a much larger indie gaming presence and I couldn't have been happier. I am a completionist at heat and I had to attempt to get to each booth and find something that would leave a lasting impression on me.
First Impressions
As soon as you get onto the escalator to the show floor you immediately know where all the big-name studios are. What surprised me was that Twitch had a much larger presence this year than in 2016. They had a lounge where you could network with Twitch streamers and relax. There was a see-through box in which a single streamer would be playing a game. People would press their hands and faces against the glass and watch them like they were in a human exhibit at the zoo. I was only interested in the indie games.
8-Bit Love
My first stop of the day was at a gaming booth dedicated to Polish game studios. The publisher of the following games was 11 Bit Studios:


Digital Sun are the developers of an upcoming title called Moonlighter, an Action RPG with rogue-like elements where you play as Will, a shopkeeper that dreams of becoming a hero. This was my favorite game at the booth. You are told a story of how the village you live in was once a profitable merchant town and shop owners would venture into the caves and bring back supplies to fill their shop, but soon the caves became too dangerous and the merchants began to leave. You are a brave young hero who dreams of becoming a hero and vanquishing the monsters in these caves. This is a dungeon crawling game that is also a shopkeeper simulator. When you get back from exploring caves you can put the items you find on sale.
Pixel Crow is the developer of Beat Cop a game where you play as Jack Kelly, a former detective framed for murder. You are reassigned to a new precinct and you are stuck writing tickets. Yes, you heard me. This is a text heavy story driven game with multiple endings. Sadly I didn't get enough time with it on the show floor. This is a game I'd love to sit down with and read every bit of the text I can find. Lucky for me and other fans of the game the release date will be in the Spring of 2017.
The final game in the booth was Tower 57, a top-down twin stick shooter with 16-bit inspired pixel art, destructible environments and a heavy focus on co-op. There was a couch at the very end of the booth and I was handed a controller and I was taken to the character select screen. There are 7 different characters you can choose from with different abilities. You pick these 3 character and they act as your lives. If your first character dies you switch to the 2nd one you picked. This game took me back to my childhood where I'd play these types of games with my little brother.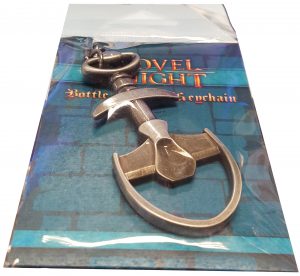 The Shovel Knight booth which was oddly tucked into the back corner of the convention was my next stop. There were only a few show-goers there so I decided to play Shovel Knight co-op their newest feature. If you weren't aware, like myself, Shovel Knight and Shovel Knight: Specter of Torment will be coming out on the Nintendo Switch. Playing it on the Nintendo Switch wasn't really my cup of tea because the Joycon controllers were a bit too small to work with. With the final boss defeated the trial was over. I decided to reward myself by purchasing a cute Shovel Knight keychain.
My next destination was the Raw Fury booth. The games they had were GoNNER; a cute 2-d platformer with an award winning soundtrack, Tormenter X Punisher; a top-down twin stick shooter where the goal is to survive and you only get 1 life, Kingdom; a kingdom-building simulation game in which you control a king or queen and spend your coins on expanding your kingdom and finally Dandara; a metroidvania gravity bending game based on an Afro-Brazilian woman in the colonial period of Brazil.
Across the way was an elaborate set-up of booths for Melbourne International Games Week, Asia Pacific's largest digital games celebration featuring conferences, events and activities for the games industry, game enthusiasts and the general public. Paperbark was a game that stuck out most to me.
"Paperbark is a game that tells a playful short story of the bush, a wombat and a very hot Australian Summer. It presents a sincere representation of Australian bushland, which has been inspired by iconic historical and contemporary landscape Artists and Australian children's literature. The game has been created as a love letter to wandering through the bush and can resonate with anyone who grew up in Australia, or is interested in it."
Virtual Reality is No Longer A Fad
Afterwards I decided to switch gears and try out some VR games. My friend had been deciding between getting VR or the Nintendo Switch and this was a perfect place to try both. Unfortunately for her she hates horror games which is the biggest genre in VR right now.
We were able to find a few games that were safe for her though. The first was The Lab, a mini-game collection created by Valve. After putting on the headset I selected "Longbow" a mini-game which is a bow and arrow "shooter". This game was pretty straightforward. Your character is perched on top of a wall of your fort and you must shoot at the stick-figure people who are trying to break down the fort's gate to enter it. When you shot the stick-figures they would release balloons you could shoot to regain your health. It was a silly game and a pretty great intro into the VR world.
We moved onto another VR shooter called Dick Wilde on the Oculus Home. In Dick Wilde you shoot mutated alligators and other giant swamp creatures while actively dodging projectiles being shot at you. This was a bit more involved than the other VR shooter, but also more difficult because you have to remember to move around shoot. At the end of each round your score is tallied up according to how many creatures you shot and how many projectiles you were able to dodge.
From Mobile Games to Consoles
The Cartoon Network booth was my next destination. Grumpyface Studios which brought us the critically acclaimed Steven Universe game Attack the Light is releasing their sequel Save the Light on consoles this summer. The combat system a blend of turn-based and real-time combat featuring the main characters of the Steven Universe show. The game will still be co-written by the shows creator Rebecca Sugar. It will also further explore the lore in the Steven Universe universe.
The only other game at the Cartoon Network booth was OK K.O.! Lakewood Plaza Turbo based on an upcoming Cartoon Network show OK K.O. Let's Be Heroes. This game is a beat-em-up featuring characters from the show.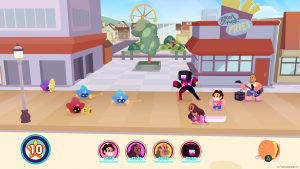 Deals for Days
My final destination of the day was the IndieBox booth. Jotun, an action exploration game where you play as a viking warrior was rumored to be there and fortunately for me it was. I grabbed the box and was on my way to purchase the game. That's when a sales rep at the booth informed me that they were having a special deal that day. If I spent another $20 I would get an IndieBox for the following month and 5 game codes. Typoman is their game for the next month and after receiving such high praise I thought it was an amazing deal.
Final Thoughts
As I headed up the escalator to leave the convention I couldn't help but feel sad leaving my favorite convention. I love the fact I can get through a convention in a day, but I can't help but think about what I missed. All in all, this is a great way to start the convention season and I wouldn't want it any other way.