The NES Classic Edition: Retro Never Looked So Cute

Nintendo is taking the old and making it new today with the release of the NES Classic Edition. This tiny machine can fit in the palm of your hand and weighing in at around 2 lbs it's no wonder people have started calling it the "Mini-NES". Many stores have already sold out of it on its first day, but is it really worth it? With all the emulator consoles on the market, what is the REAL appeal of this? Today we'll look inside this to see what makes the NES Classic Edition special.

In 1985 the NES was released in the US and its initial release was far from being successful. It was released in four different bundles: the Deluxe Set, the Control Deck, the Action Set and the Power Set. The Deluxe Set, retailing at $199.99 (equivalent to $476 in 2015), included R.O.B., a light gun called the NES Zapper, two controllers, and two Game Paks: Gyromite, and Duck Hunt. The Basic Set, retailing at $89.99 with no game, and $99.99 bundled with "Super Mario Bros." The Action Set, retailing in 1988 for $149.99, came with the Control Deck, two game controllers, an NES Zapper, and a dual Game Pak containing both Super Mario Bros. and Duck Hunt. 
At $59.99 with a library of 30 built-in games the NES Classic Edition sounds like a steal especially if you consider that the following games would cost around $150 on the virtual console. The US version includes:
Bubble Bobble

Castlevania

Castlevania II: Simon's Quest

Donkey Kong

Donkey Kong Jr.

Double Dragon II: The Revenge

Dr. Mario

Excitebike

Final Fantasy

Galaga

Ghosts N' Goblins

Gradius

Ice Climber

Kid Icarus

Kirby's Adventure

Mario Bros.

Mega Man 2

Metroid

Ninja Gaiden

Pac-Man

Punch-Out!! Featuring Mr. Dream

StarTropics

Super C

Super Mario Bros.

Super Mario Bros. 2

Super Mario Bros. 3

Tecmo Bowl

The Legend of Zelda

Zelda II: The Adventure of Link
Bubble Bobble, Castlevania II: Simons Quest, Donkey Kong Jr., Final Fantasy, Kid Icarus, Punch-Out!! Featuring Mr.Dream, StarTropics, and Tecmo Bowl are all exclusive to the US version of the console. Unfortunately, it doesn't seem there are any ports or Wi-Fi availability so other games can not be added at a later date. There is speculation that Nintendo may release other versions of the mini console with different games.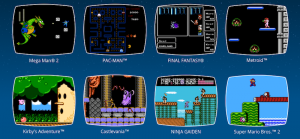 The system features HDMI display output so you can play it with pixel perfect display, CRT television, or 4:3 aspect ratio. The console has a new emulation engine which was developed by Nintendo European Research & Development (NERD) and it has been well-received by critics who claim it is superior in audio and visual support when compared to the NES Virtual Console emulation on the Wii U.
A new replica controller comes with the console, which you can also connect to the Wii remote for use with the Virtual Console games on the Wii and Wii U. The cable is around 2.5 ft. long quite a few people have suggested buying the extender unless you'd like to re-live your childhood by sitting up against your T.V. screen. Many people would have preferred a Bluetooth controller, but it doesn't seem to be that big of a deal for older Nintendo fans. An additional controller can be purchased for $9.99.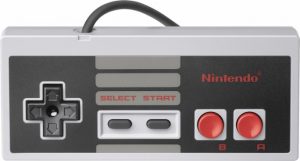 Therefore, if you would rather not have an emulator on your PC or phone and you can find this console in stores or online then this is a pretty good deal for a plug and play console. Other than that it is a near-identical replica of the classic system and it will definitely satisfy your need for nostalgia.